Activities in Gueberschwihr and Gueberschwihr's surrounding area
Set on the famous Alsace wine trail road on the feet of the Vosges, Gueberschwihr is the departure of a lot of activities. 
Visit the charms of the Alsace wine trail road (see our page visit Alsace),  go for a walk in the wineyards or in the forest or enjoy hiking, biking, jogging, mountain hiking, mountain bike or rock climbing.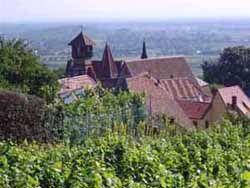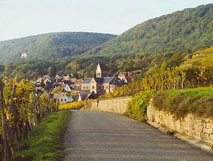 Wine path of Gueberschwihr, departure near the gîte

Abandoning for a moment the charms of the Route des Vins in order to discover the heart of the vineyards.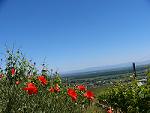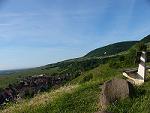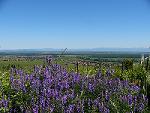 The itinerarie goes through ochards, forest and vineyard which benefit from a wonderful climatic situation and provides visitors with an exceptional panoramic view over the Alsace palin, the Black Forest and even -on a clear day- the Alps.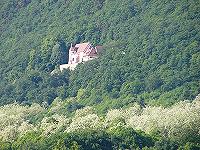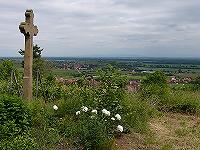 Chapel "Notre Dame du Schauenberg"
Gueberschwihr is surrounded by Vineyards leading into rugged high forested hills which are ideal for walking. Near to the lodging, begins the way of the cross which leds to the chapel Notre Dame du Schauenberg which is nested in the forest and offers a spendid wide view of the Alsace Plain and the Black forest.
From there, you can walk to the autel des Druides above the Schauenberg to recharge yourself,
It is also a starting point to plentiful of walks.
Walking in Alsace:
Around Gueberschwihr (like everywhere in Alsace), some particularly famous footpaths run across the region. Stroll to the vineyards and forests, ramble over the mountains and along the footpaths in Southern Alsace, enjoy hiking.
Footpaths et historical tours in Alsace.